GALLERY
VALERI + CHRIS -|- May 2023 -|- The Eloise -|- Mount Horeb, WI
Val and Chris's big day just exuded elegance.  The details were absolutely stunning and Chris even had velvet trim on his tux. Top it off with a snazzy champagne toast, a four-tier cake, and beautiful black and white details- their day was classy to the max.  Plus, a few really special touches like a custom medieval portrait and hand forged cake cutting knife, made the day extra unique. Congratulations, Val & Chris!  I hope your portrait hangs proudly on your wall and you admire it every day!
Photos by Tara Draper Photo
SAM GRADUATION -|- May 2023 -|- The SAM House -|- Madison, WI
You only graduate college once and the guys at the SAM house know how to celebrate!  With fantastic weather and desserts homemade and flown in from New York, this party was absolutely awesome. The party couldn't have gotten any more iconic "Madison" being situated right on the lake and complete with Ian's Pizza and perfect Bucky Badger decorations. Congrats, gentlemen!  You Buckin' did it!
Photos by Kirby Wright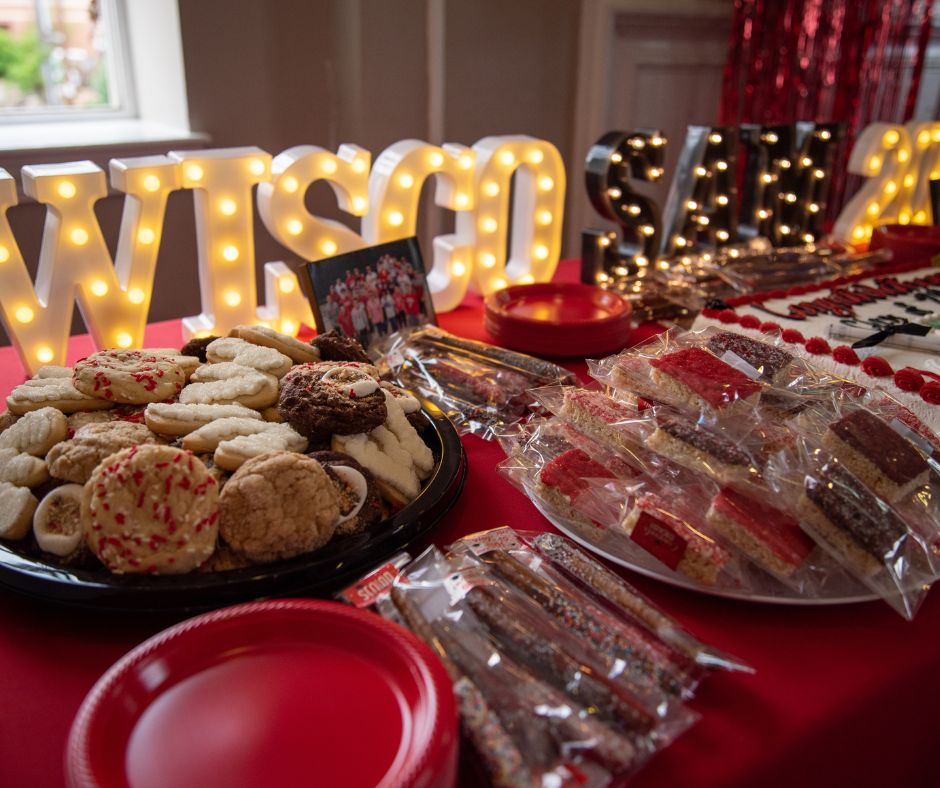 TAYLOR + GREG -|- May 2023 -|- The Eloise -|- Mount Horeb, WI
I've never seen a bride smile or laugh so much. And it wasn't nervous laughter-she knew exactly what she was doing. And so did he. The energy between these two was absolutely electric and the guests could feel it! Congratulations, Taylor and Greg! I hope you smile and laugh every day as much as you did on your wedding day!
Photos by Rae Sherman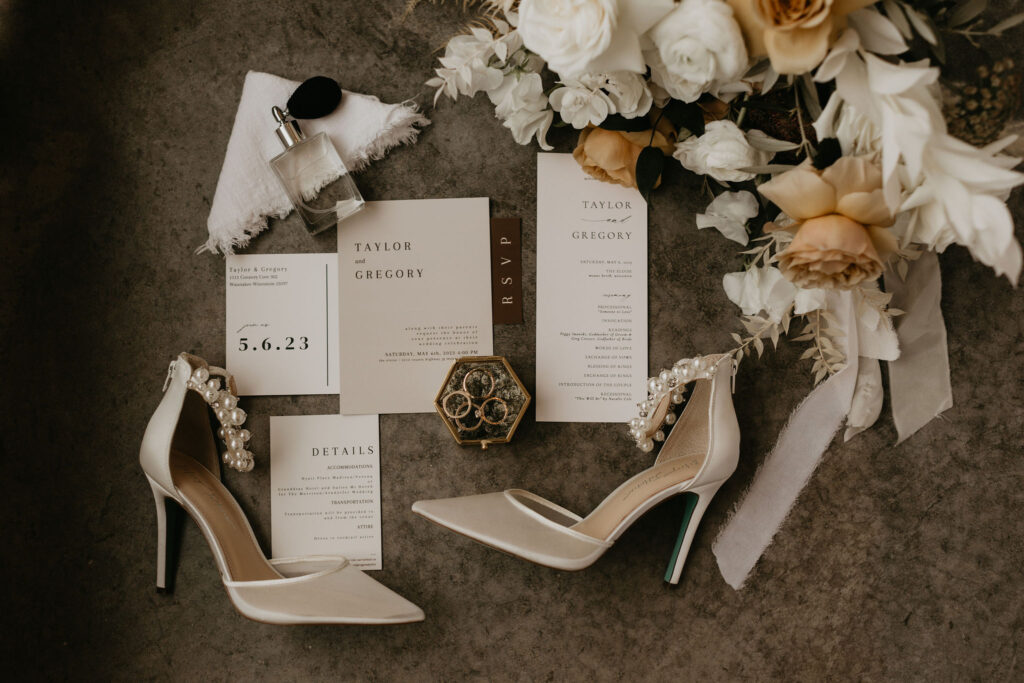 ST. PAUL'S SPRING WINE FEST -|- May 2023 -|- Marriott West -|- Madison, WI
It was great to be back for another year with Wine Fest! Special appearances from the UW Marching Band and Bucky Badger himself, plus the Bishop and wonderful student testimonies, this night is filled with energy, faith, and of course lots of wine.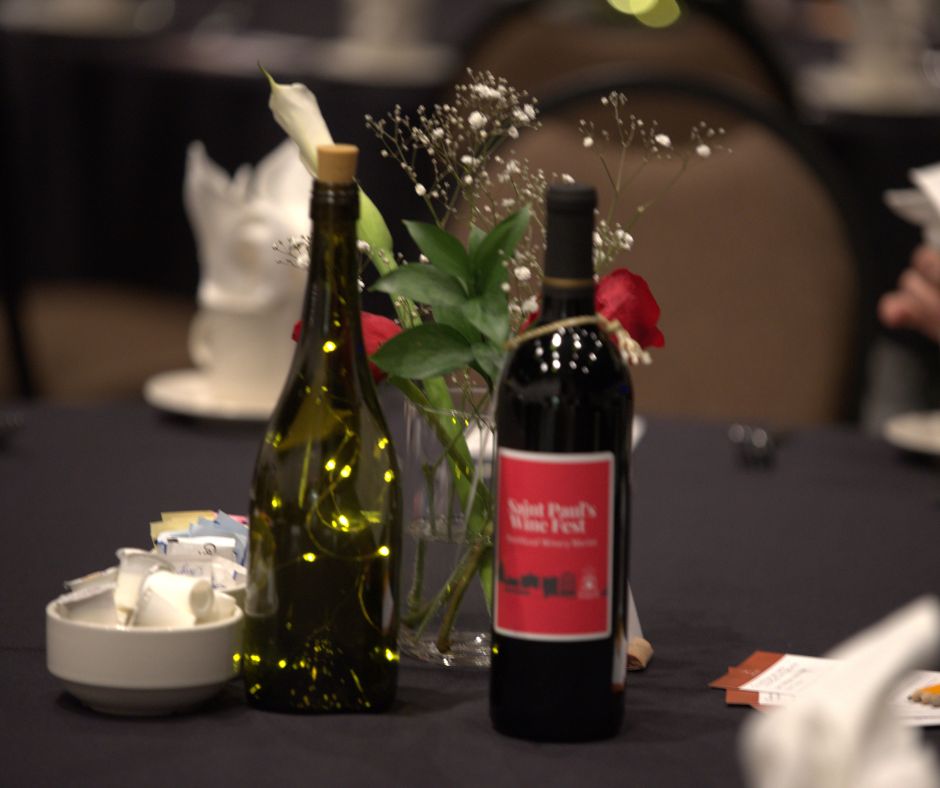 LAURA + DARREN -|- April 2023 -|- Garver Feed Mill -|- Madison, WI
Every once in a while, a couple will do something really unique and for Laura and Darren, the addition of the live mariachi band was the highlight. Instead of a recessional, the mariachi band began to play from the balcony of Garver as soon as the couple was announced and then also played throughout cocktail hour and for the grand march. It was such a fun, lively touch for the day!
Photos by Thrive Photography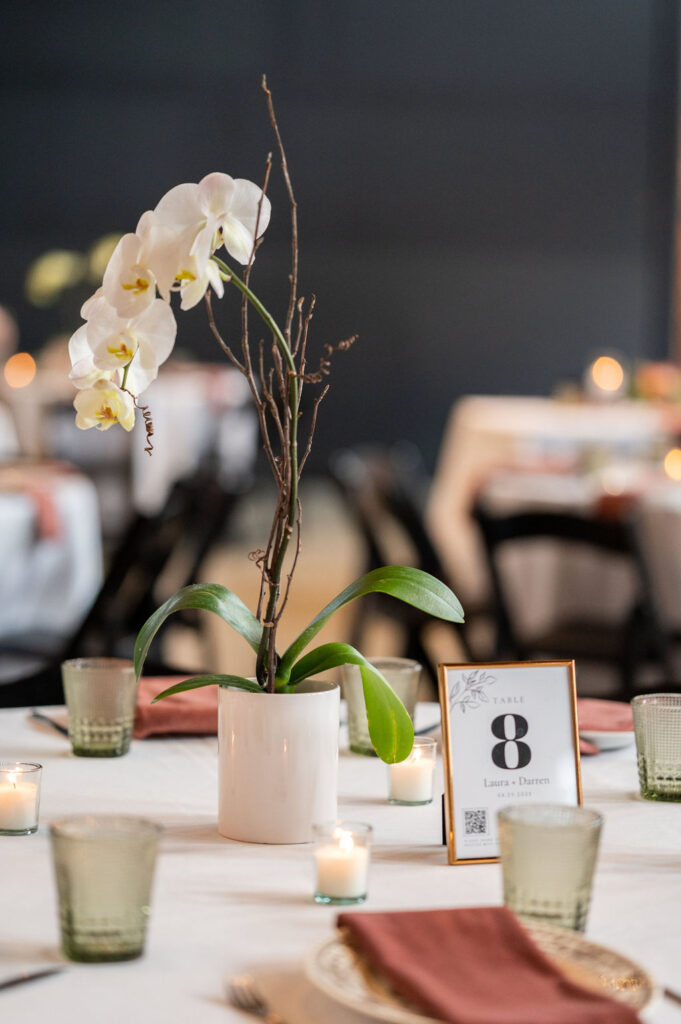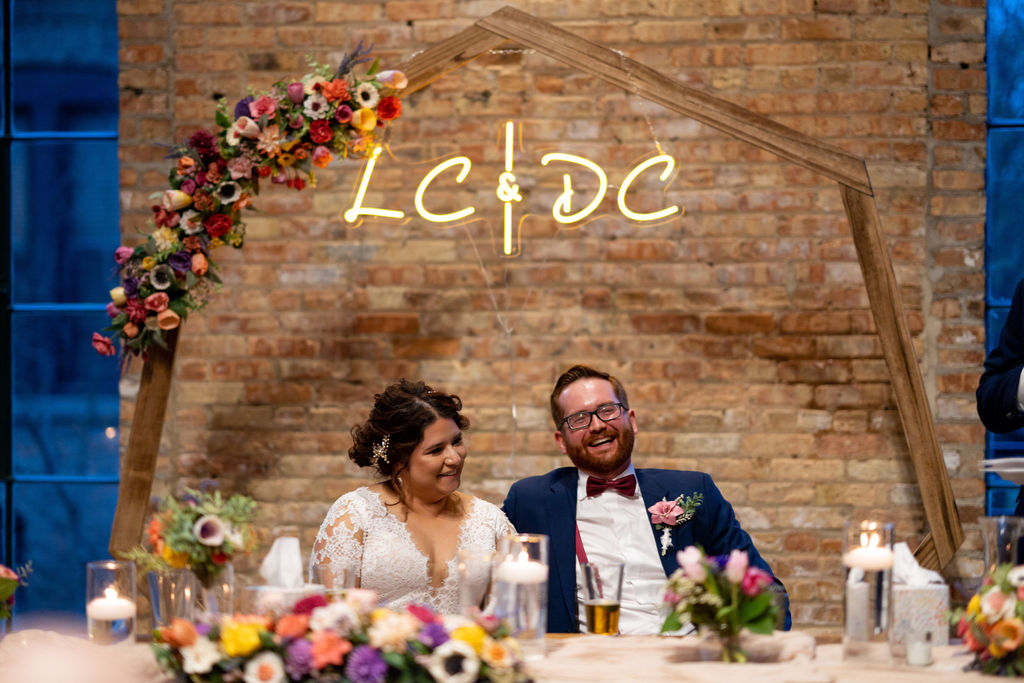 AMANDA + JIM -|- March 2023 -|- The Eloise -|- Mount Horeb, WI
Some people don't like having kids at their wedding and I'm going to let you in on a little secret: it's not because they aren't fun, it's because they'll steal the show! When your best man looks as good in a suit and shades as this best man, it's bound to be a fun time. Amanda and Jim's wedding was no exception. Filled with great food, whimsical cotton candy, and a special bride and best man dance, their day was perfect from start to finish. Congrats, Amanda and Jimmy!
Photos by Kelsey Jean Photography
BAR MITZVAH -|- October 2022 -|- Martinson Hall -|- Mount Horeb, WI
I love milestone celebrations. They're so special and every single one is so unique. Celebrating a bar mitzvah with Aiden and his family was really a special experience. From the start it was clear this would be a multi-part extravaganza. The day started with a more formal ceremony and lunch as Aiden read from the Torah and gave his speech. Then the party part of the day happened later that night, complete with dancing, glow lights, and lots of family and friends. Mazel tov, Aiden! And thank you for letting me celebrate with you!
Photos by Dynae Allice Photography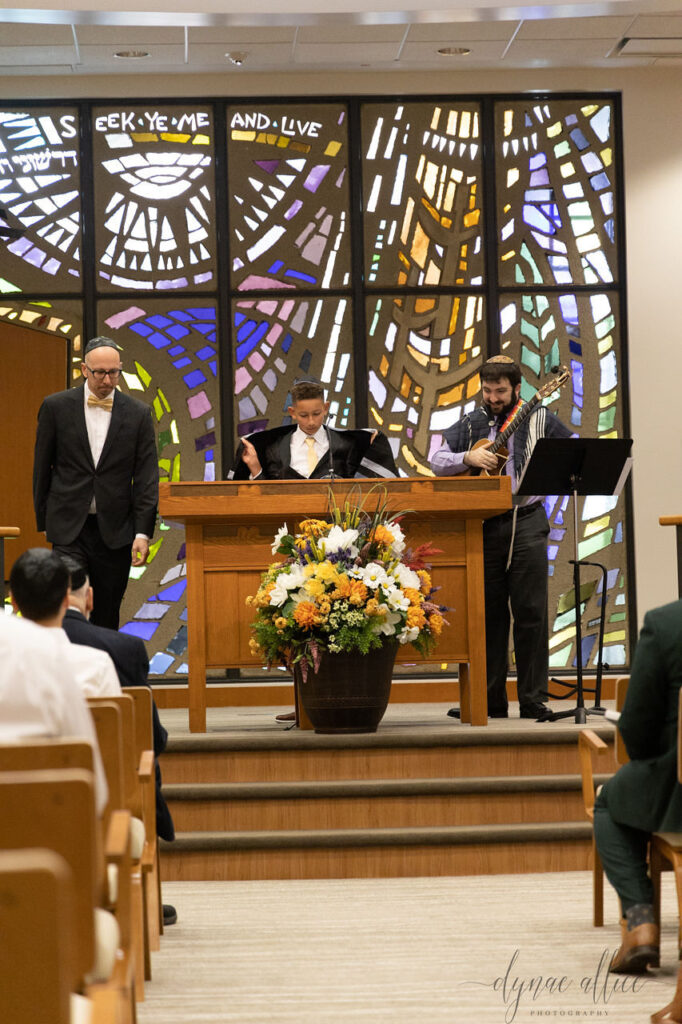 AMANDA + VALANTE -|- October 2022 -|- The Eloise -|- Mount Horeb, WI
This couple had Style, with a capital S. Beautiful dresses, classic black tuxes, and simple yet elegant centerpieces all hosted at the gorgeous Eloise in Mount Horeb. Amanda and Valante had electricity between them and all around them that day. In spite of it being a bit chilly that day, their bridal party all braved the weather and got some beautiful photos in a picturesque fall Wisconsin countryside. Congratulations, Amanda and Valante! Stay classy.
Photos by Larissa Marie Photo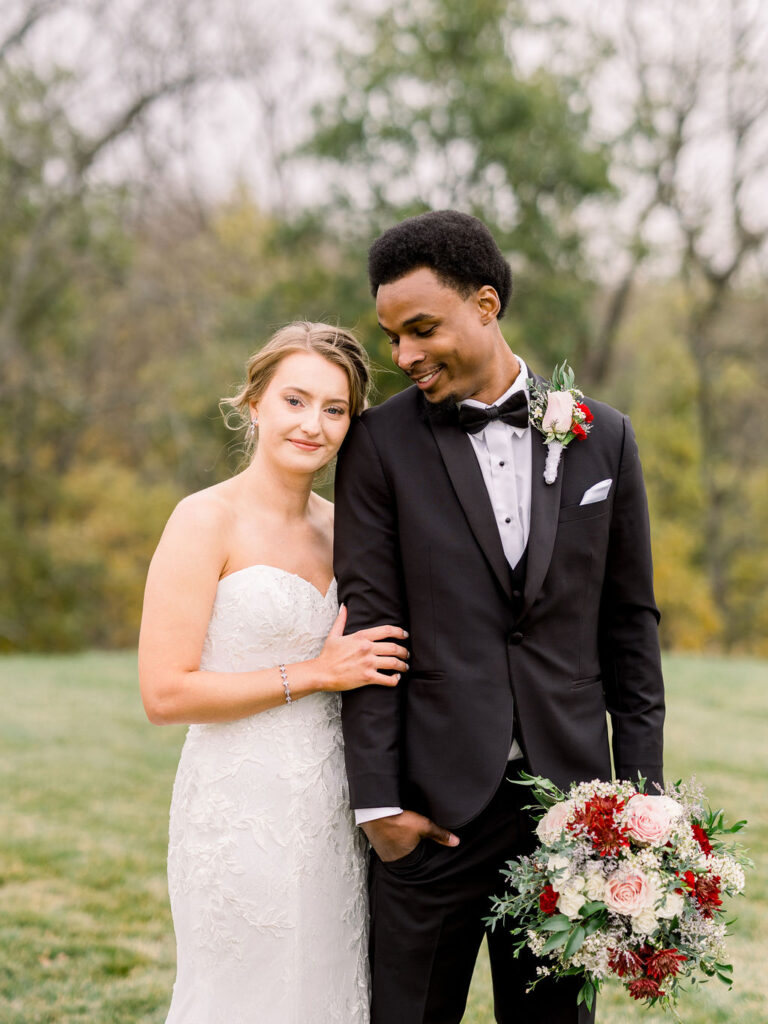 BEACON & EGGS -|- October 2022 -|- The Orpheum -|- Madison, WI
That's not a typo, the event was really called Beacon and Eggs! And what a fun twist on a traditional event, serving breakfast for a wonderful community asset called The Beacon. The Beacon, located right off East Washington Avenue in downtown Madison, is a homeless day resource center with a public – private partnership working to provide community solutions to help men, women, and children who are experiencing homelessness in Dane County, Wisconsin. This year they celebrated their 5th Anniversary with a fun birthday party at The Beacon, complete with cake and bingo, plus a fun breakfast event at The Orpheum on State Street. Congratulations on 5 amazing years and thank you for all you do for the Madison community!
Photos by The Wedding Flashers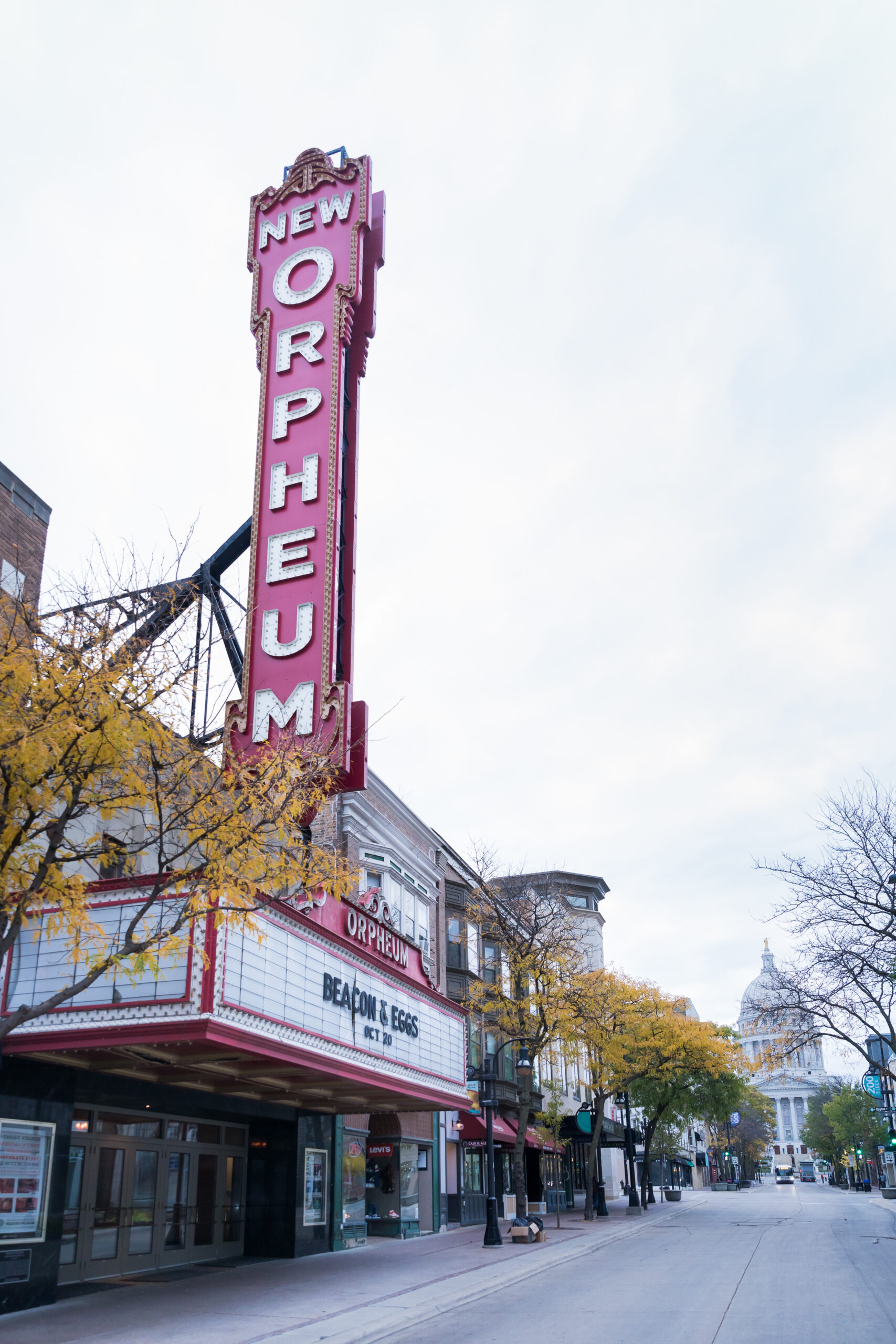 HANNAH + ANDREW -|- October 2022 -|- The Fields Reserve -|- Stoughton, WI
Big weddings are great, but I always feel like weddings that hover around the 100-person mark have such a different vibe. You get to talk to everyone, enjoy your guests, and you never feel like you're trying to end one conversation just to get to the next. Hannah and Andrew absolutely nailed it when it came to inviting the most important guests to their big day. And their families were fantastic. The bold personalities in the room made the space feel full and warm, in spite of it only being at one third capacity. One other unique element I loved was their table "numbers." Instead of using numbers they had photos from their travels, beautifully labeled and marked their adventures together around the globe, which will make a beautiful keepsake for years to come. Congrats, Hannah and Andrew! May the adventure continue!
Photos by Tiffany Christina Photography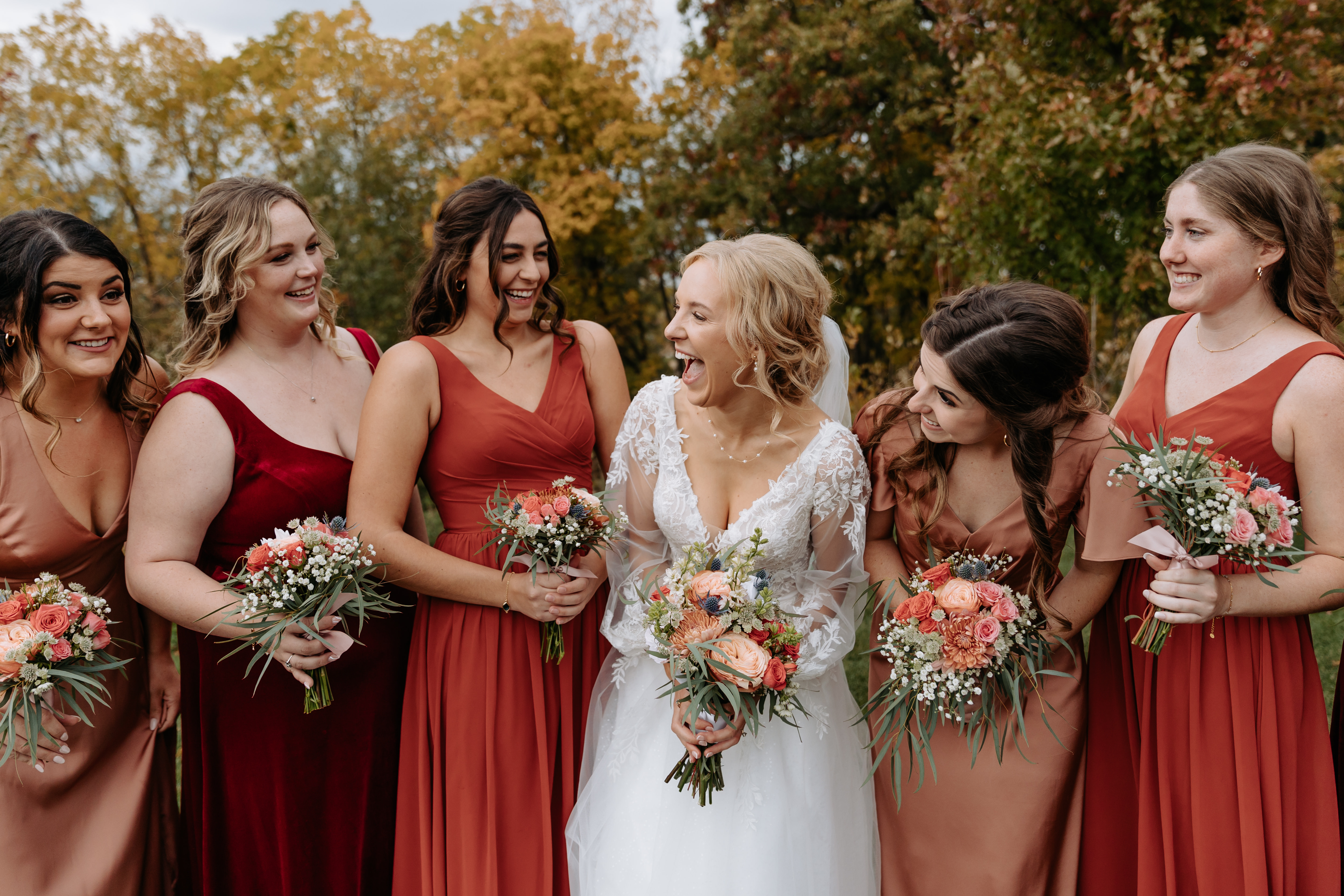 ELISE + TAYLOR -|- October 2022 -|- Family Farm -|- Cambridge, WI
This couple literally couldn't have gotten a more perfect fall day. And the bridesmaid dress colors just added to the beautiful weather. As the fourth daughter to get married in the last year or so, Elise had decided to stick with what had become family tradition and use the same decorations from her first sister's wedding, each of them in turn adding their own special touch. Well the special touch for Elise was the beautiful dried flower bouquets she found on Etsy. They were absolutely stunning. And that wasn't even the best part! An entrance fit for a princess (and she absolutely was that day), her dad got a white horse-drawn carriage for her and him to ride in on together. It was truly picturesque. Then, later that night, they traded their horses for horsepower and took some awesome photos in a perfectly-detailed, jet black, Oldsmobile 442. Ride into that sunset together, Elise and Taylor!
Photos by Hannah Toldt Photography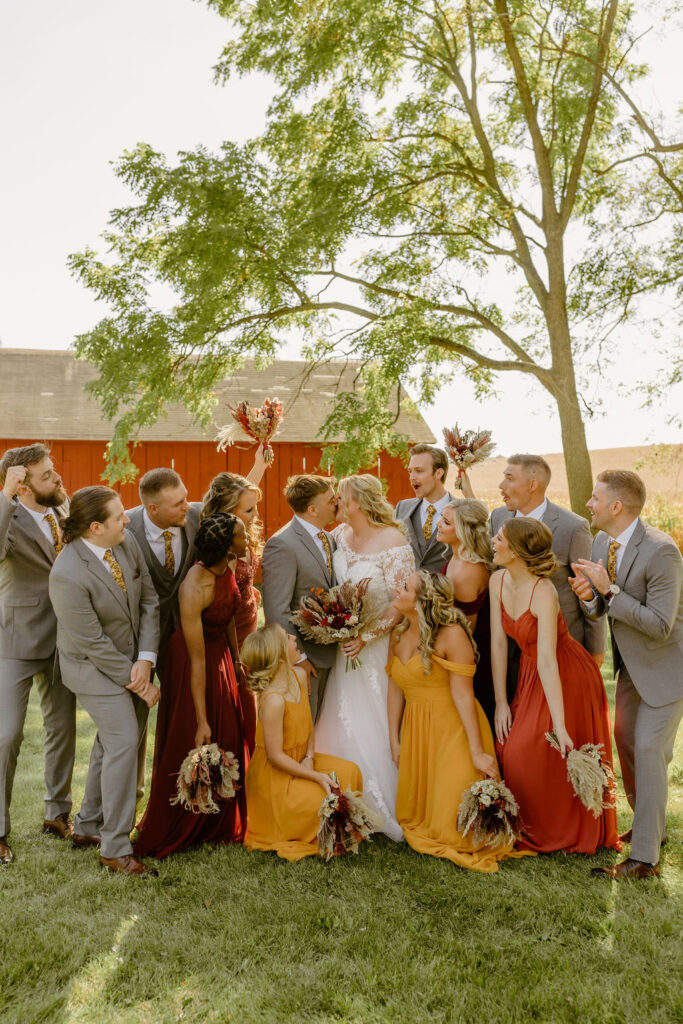 KYLE + KILEY -|- September 2022 -|- The Bridle Barn & Gardens -|- Mount Horeb, WI
After clicking refresh on the weather app for what felt like the 50th time that week, the big day had finally arrived for Kyle and Kiley. And you know what? The rain stayed away through most of the night! After a sweet and very personal exchange of vows, officiated by the groom's brother, all guests headed toward the bar where my bartender and I anxiously waited! With two signature cocktails, a cranberry mint mule and a classic Wisconsin Old Fashioned, we were ready to help get the party started! Side note, these two are actually my neighbors and I was so excited when they asked me to help with their big day! Thanks for including me in your day, Kyle and Kiley! And cheers to many more cocktails together!
Photos by Annika Frame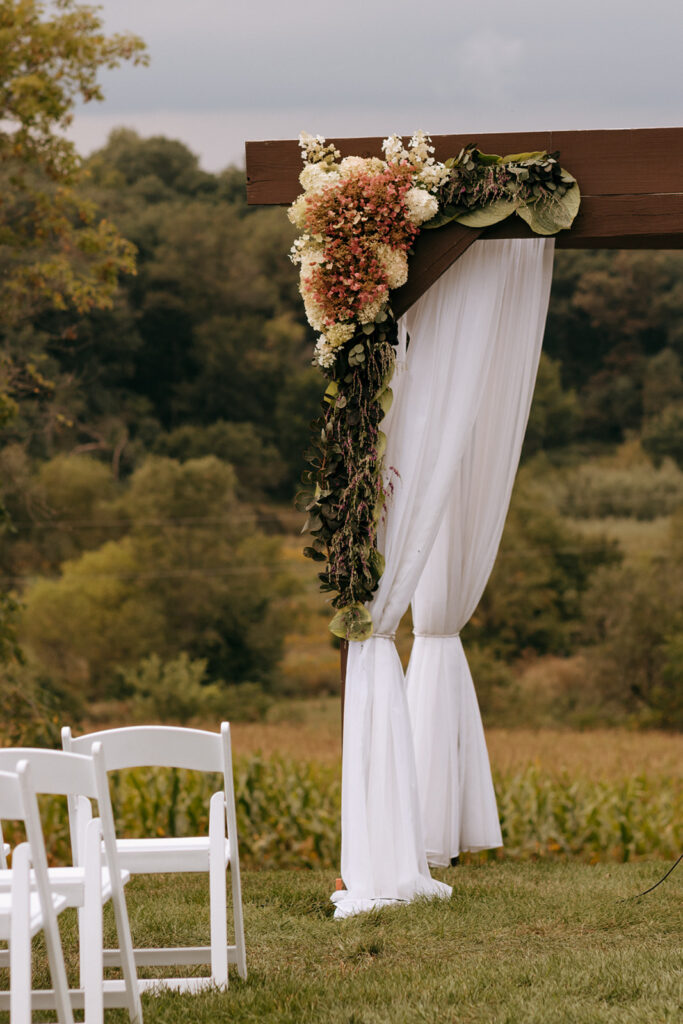 MICHELLE + JUSTIN -|- September 2022 -|- The Legend at Bergamont -|- Oregon, WI
As a born and raised Madisionian, I was surprised that I had never really noticed this wonderful little chapel next to James Madison Park. This simple, elegant chapel accommodated 80 guests as they celebrated the bride and groom's love. And, in spite of a few wild twists and turns along the way, the day turned out beautifully! Following this intimate ceremony, the couple was able to take photos downtown and enjoy a real Wisconsin wedding, complete with cheese curds, before heading out of downtown for their reception. And the reception was perfect, too! Michelle and Justin, thanks again for trusting me with your day and I hope it was everything you dreamed it would be!
Photos by Lauren Rae Photo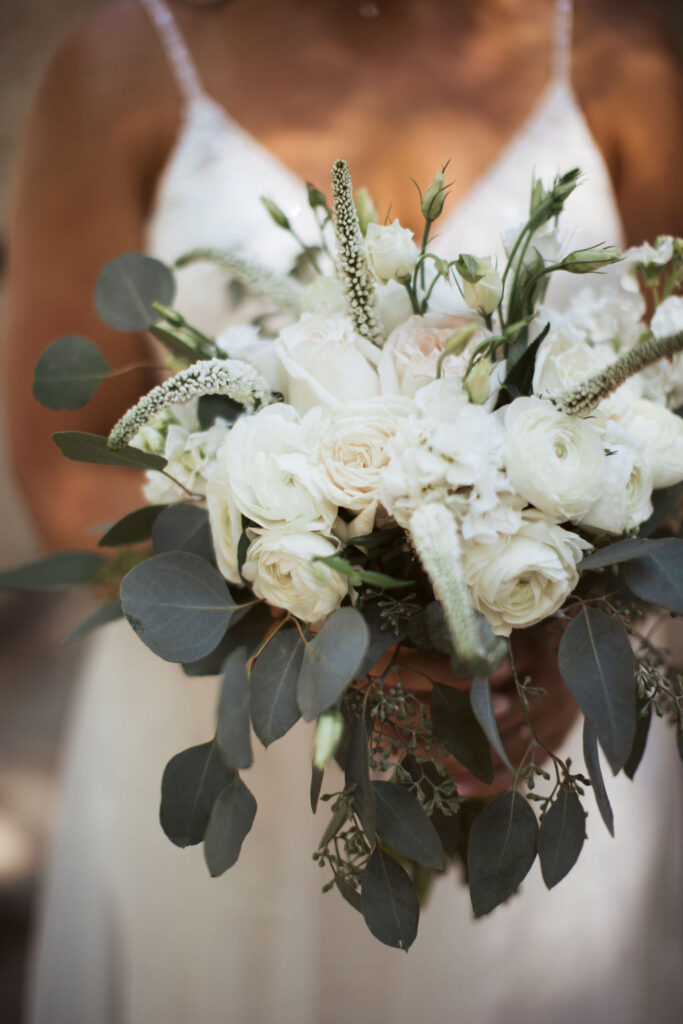 ANGIE + ADAM -|- August 2022 -|- The Memorial Union -|- Madison, WI
Madison is a great city to get married in if the lake is your life. Angie and Adam live right on the Madison lakes and decided to do all their celebrating in sight of water. Though the morning started out a little misty, the soft calm that fell over the lake at the East Side Club turned into a beautiful sunny afternoon by the time the ceremony began. From there, the couple ventured to the Memorial Union and really made it a Madison wedding, complete with Union sunburst table numbers and name cards. After watching the weather all week, the day turned out wonderfully and the water stayed in the lakes and out of the skies. Congrats, Angie and Adam! It was such a joy celebrating with you!
Photos from Caitlin Jefko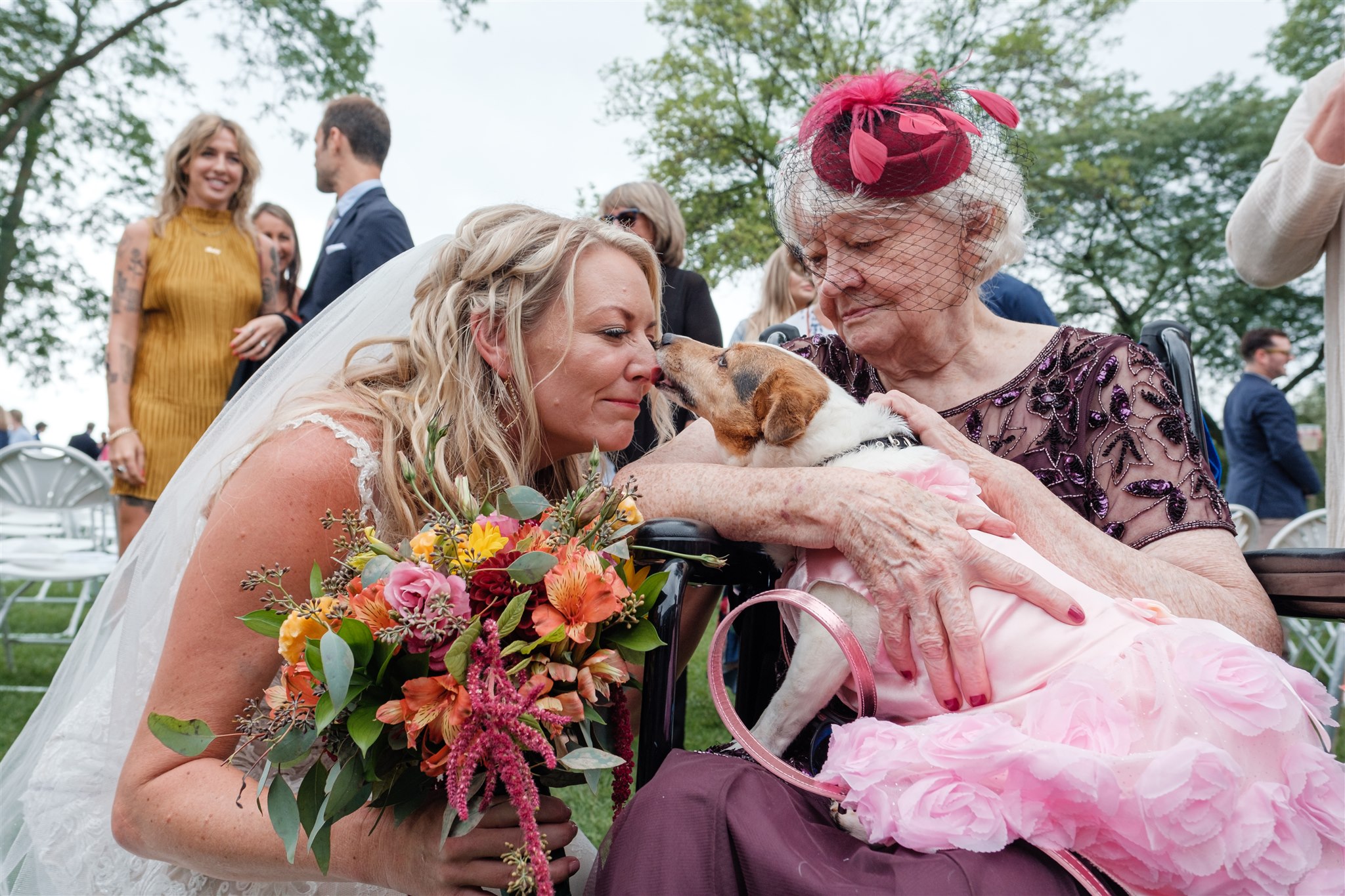 GWEN + CHAD -|- August 2022 -|- The Eloise -|- Mount Horeb, WI
There's always one specific thing that really sticks out to me at each wedding. Something unique or extra special or extremely personal that makes the day different, beautiful, and individual. For this one, it was the flowers. They were absolutely gorgeous. They were filled with color, perfect for a summer wedding. And the peach linen napkin rosettes complimented it perfectly, even if it was one of the more labor intensive napkin folds. The ceremony was beautiful outside at The Eloise and the reception was so fun and laid back, clearly a great reflection of the couple. Thanks for letting me be a part of it!
Photos by Annika Frame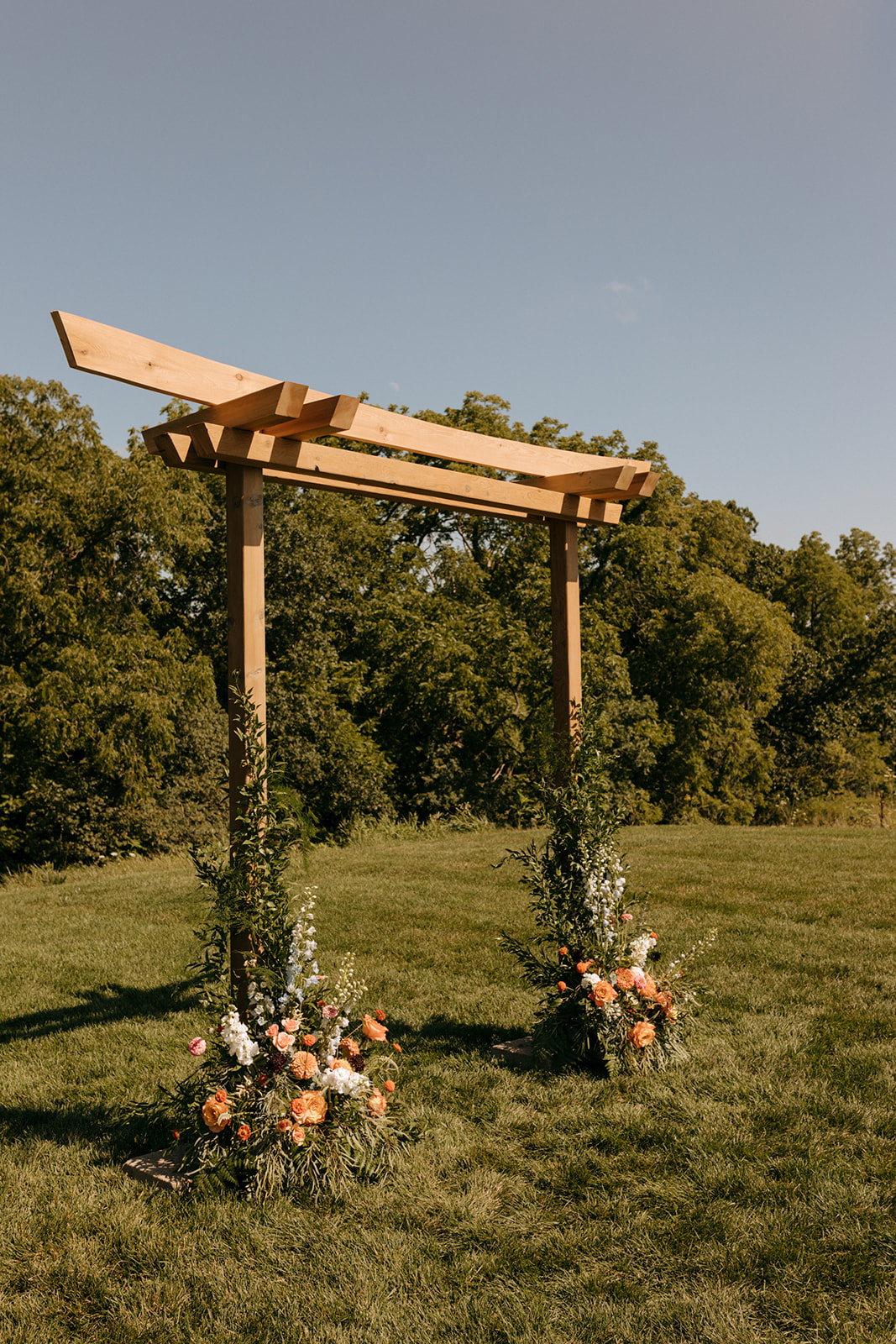 JULIE ANN + LAURA -|- July 2022 -|- Garver Feed Mill -|- Madison, WI
These ladies were such a joy to work with. One more laid back personality evenly balanced the other more forward personality and they complimented each other perfectly. They maintained some wonderful traditions including a beautiful handmade chuppah and dancing to the Hava Nagila complete with chair hoisting, while also really making the day their own and including some Madison favorites like Greenbush donuts for dessert and Ian's Pizza for late night snacks. And the venue was absolutely perfect for them to be able to host their ceremony, cocktail hour, dinner, and reception all in the same place, perfectly executed by an amazing Garver staff. Congratulations, Julie Ann and Laura! What an amazing day!
Photos by Melanie Renee Photography
ZACH + SAVY -|- July 2022 -|The Eloise -|- Mount Horeb, WI
Gold and burgundy decorations added to the elegance of this beautiful wedding. Tall floral towers and some soft greenery around the Eloise added some beautiful touches to this already gorgeous venue. And what a fun time it was! The dance floor was full all night long and the playlist was on point. Thanks for letting me be a part of your special day, Zach and Savy!
Photos by State Line Photography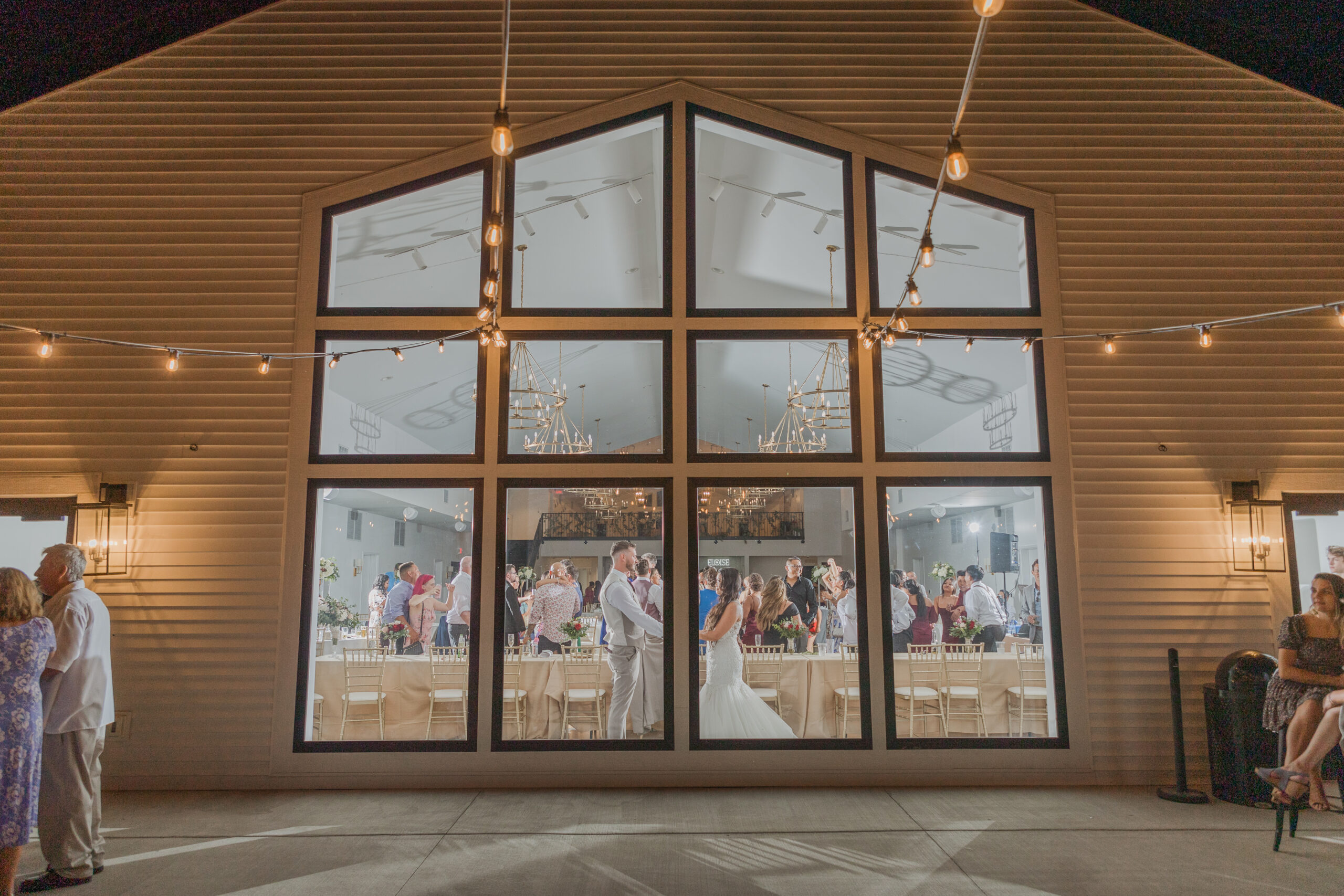 KAYLA + DEREK -|- July 2022 -|- The Memorial Union -|- Madison, WI
I seriously love it when people include their pets in their ceremonies. And it seems like other people do too, as I listen to all the "awwwws" as the dog walks down the aisle. This wedding was definitely for the dogs, but in a really good way. After the two dogs showed up in the ceremony they were whisked away to a sleepover, but their presence was felt the whole night through. From custom cocktails named for the pups to dog and cat treat party favors, you could tell the two pups were really a part of the family. And the rest of the family got involved too! The couple opted to forego the traditional wedding party and instead had their parents make the toasts for the night which made for a literal lifetime of good stories. Oh and then there was a sweet outfit change at the end of the night from glamorous wedding gown to a rockin' white top and pants. AmzCongrats, Kayla and Derek!
Photos by Katie Ricard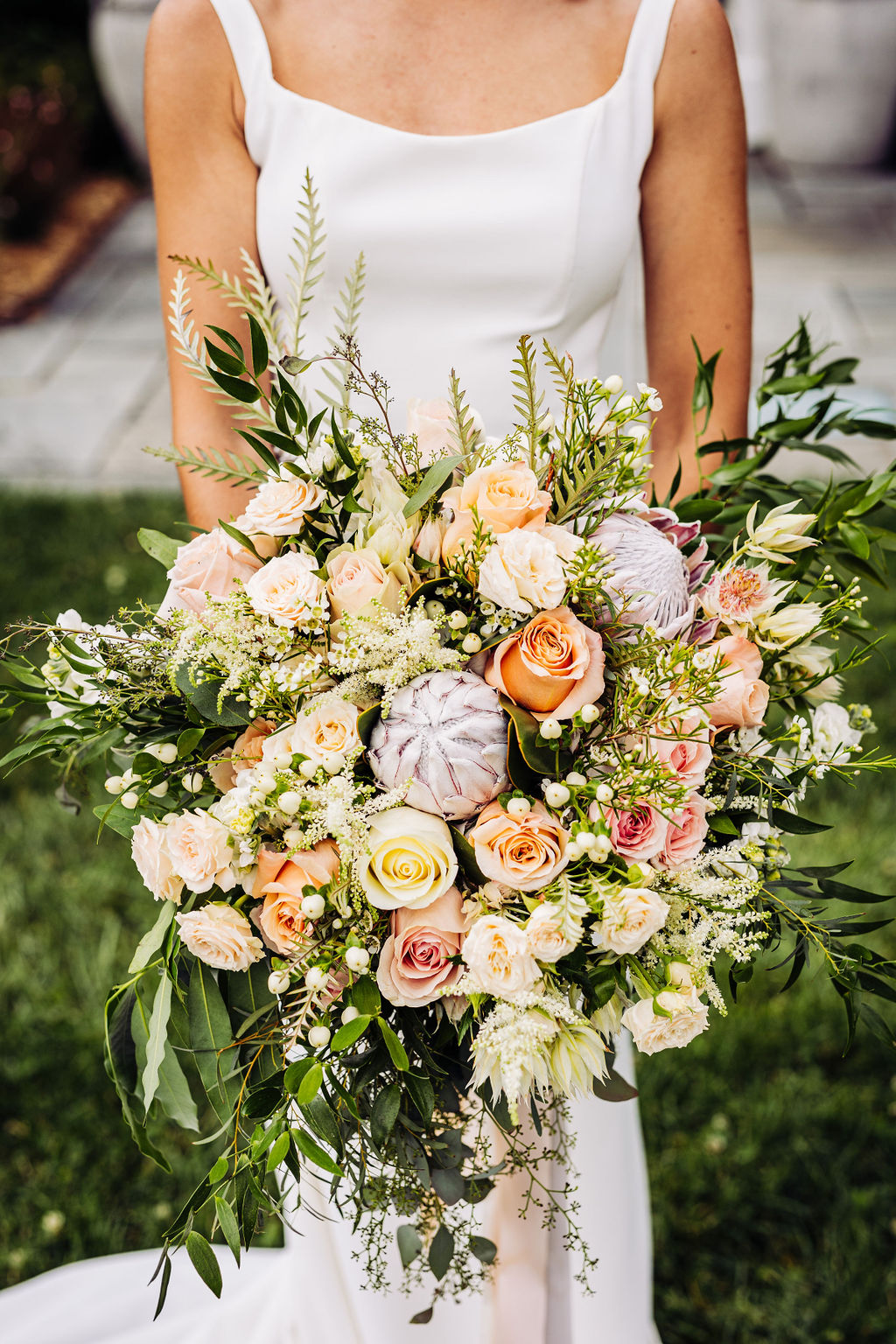 LAUREN + COLE -|- June 2022 -|- Lake Mendota -|- Madison, WI
Hosted at the family lake house, this wedding was perfectly fun without being over the top. And the dapper Bubba the Bulldog stole the show. With fun details like Betta fish centerpieces, a dog bearer in a bowtie, and capping the night off with a spectacular fireworks show, this wedding was definitely unique. And Lauren and Cole are clearly fun people. From matching underwear for the groomsmen, to the bride Icing the groom in the middle of the ceremony, to a flip cup grand march, they really made this day their own. Nothing was off limits and these two celebrated with fantastic weather, an awesome crew of family and friends, and smiles on their faces all night long.
Photos by Kirby Wright Photography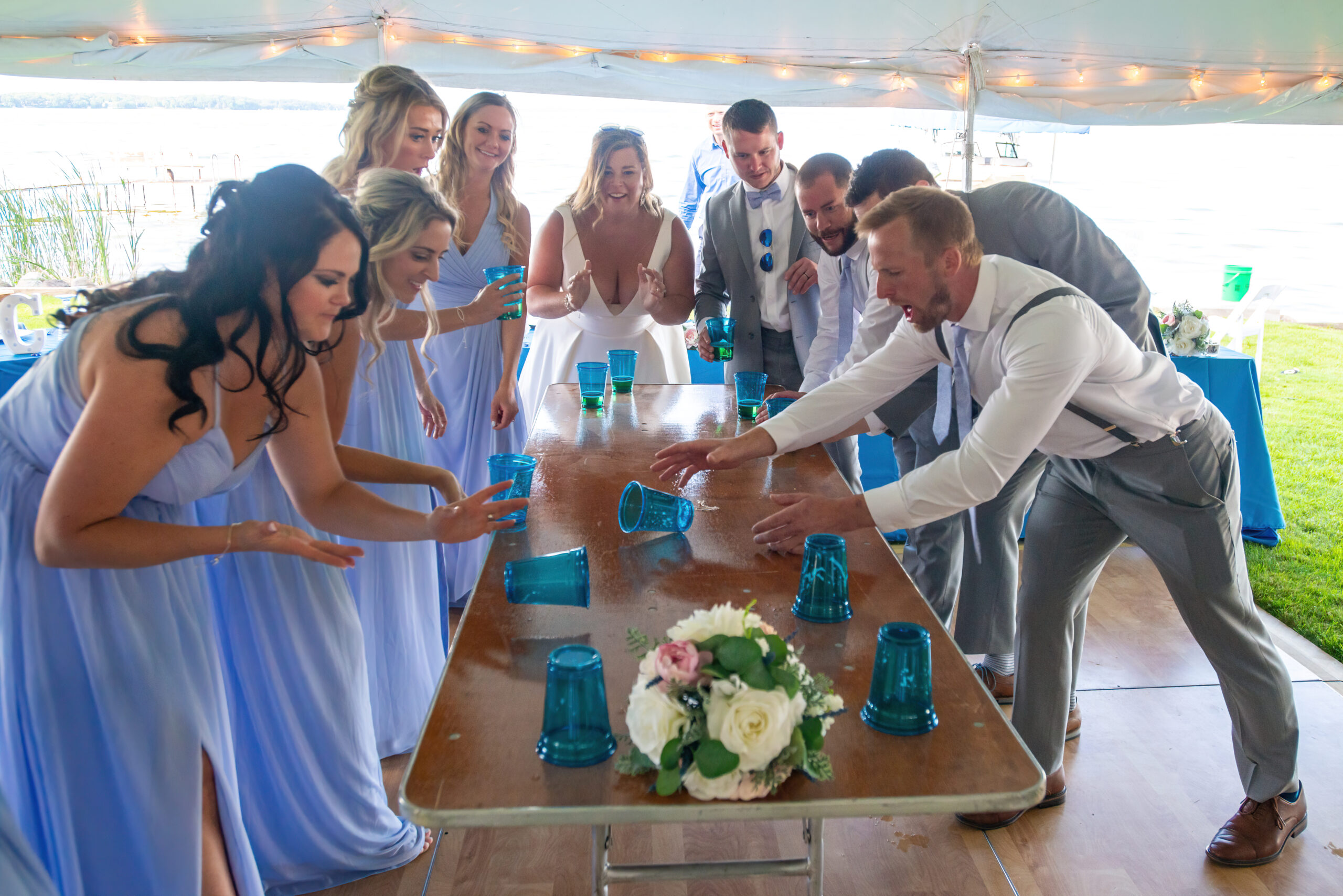 RETIREMENT PARTY -|- June 2022 -|- Ellsworth Block -|- Madison, WI
This group knows how to send someone off right! This night celebrating M was filled with class and character. Including performances by the Milwaukee African Drum and Dance, KLJ Dance, and a special blessing, every aspect of this night was so personal to the honoree. And to top it all off, not one, not two, but nine speeches to praise, appreciate, and celebrate M. Congratulations on all you've accomplished!
Photos by Arrowstar Photography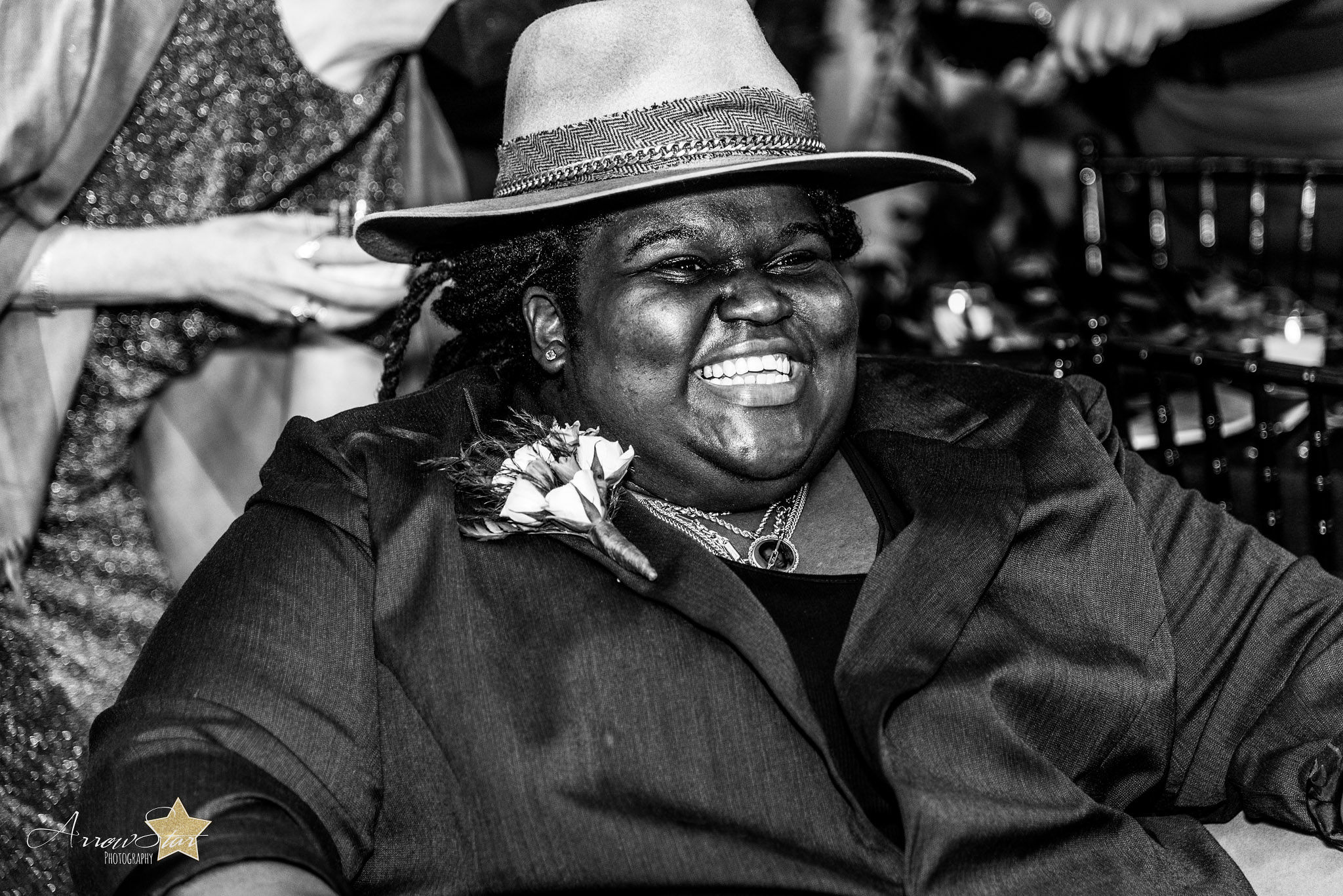 DONOR APPRECIATION -|- June 2022 -|- Madison Youth Arts Center -|- Madison, WI
The theme of this event was FUN! From the balloons, to the stilters out front, down to the Yummee cookies, everything about this event was intended to reflect whimsy, loads of color, and a deep appreciation for the folks that made the project possible. Situated just off East Washington Avenue, this new building houses dozens of arts groups, specifically focused on youth arts. Anchor partners include Madison Youth Choirs and Children's Theater of Madison, among others. Much appreciation to the generous donors that made this beautiful, and very busy space possible.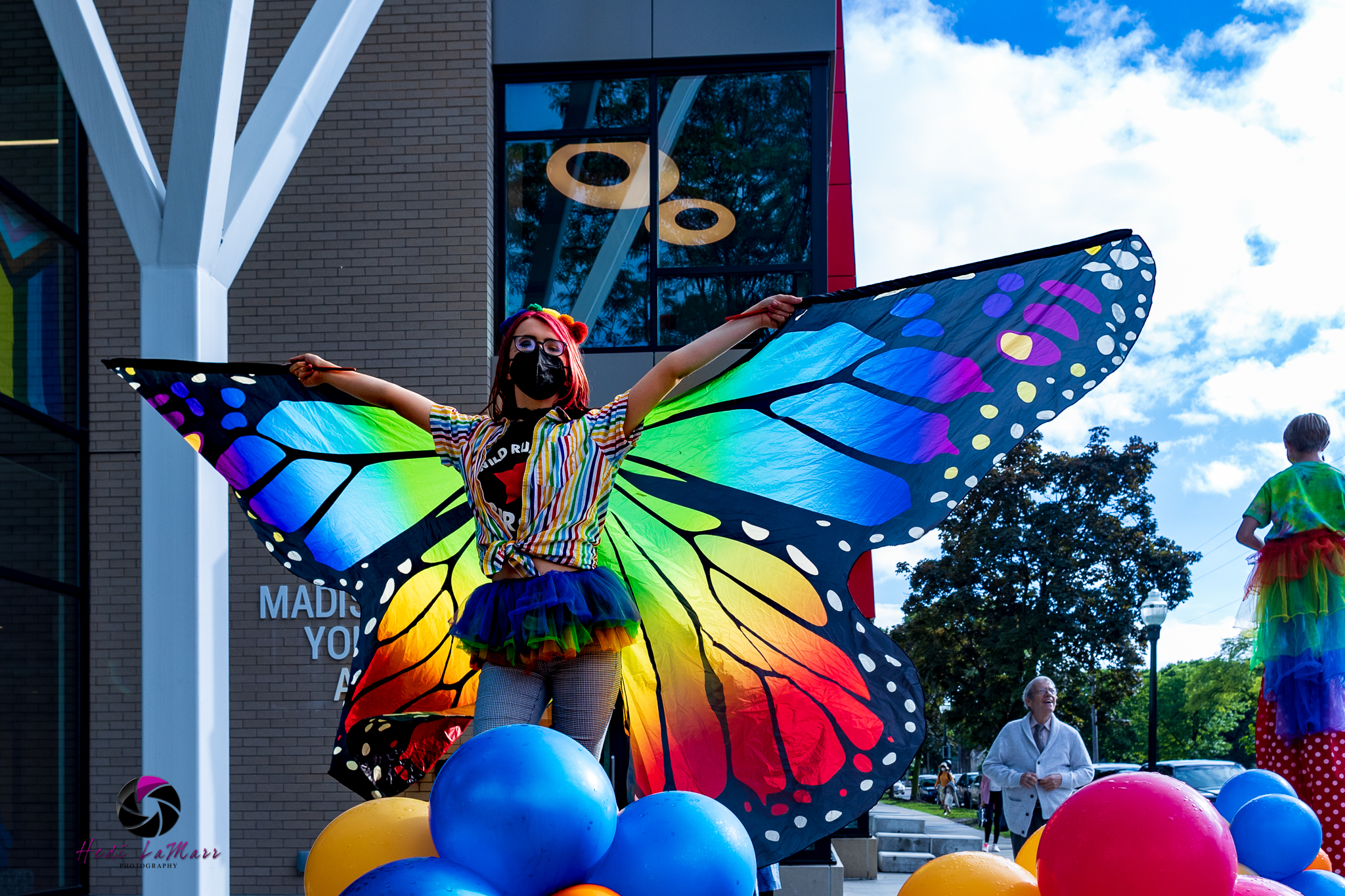 TAYLOR + STEPHEN -|- May 2022 -|- Harvest Moon Pond -|- Poynette, WI
Talk about made for each other- you're talking about Taylor and Stephen. This wedding was filled with fun, laughter, and some of the best vows I have ever heard. Ever. And the crazy part is, they were written by the bride and groom, not discussed, and yet they were remarkably similar. These two definitely share a wavelength. As a planner, sometimes I notice things that others don't catch; usually because I have to, mostly because I'm paying attention and not drinking like the rest of the party. I thought the sweetest moment at this wedding was during their first dance. Stephen clearly was whispering something in Taylor's ear as he held her close and he made this really public, overly photographed moment so intimate. It made my heart melt a little. It made me think that sometimes that smallest actions create the biggest magic and these two definitely have the magic.
Photos by Lindsay Meffert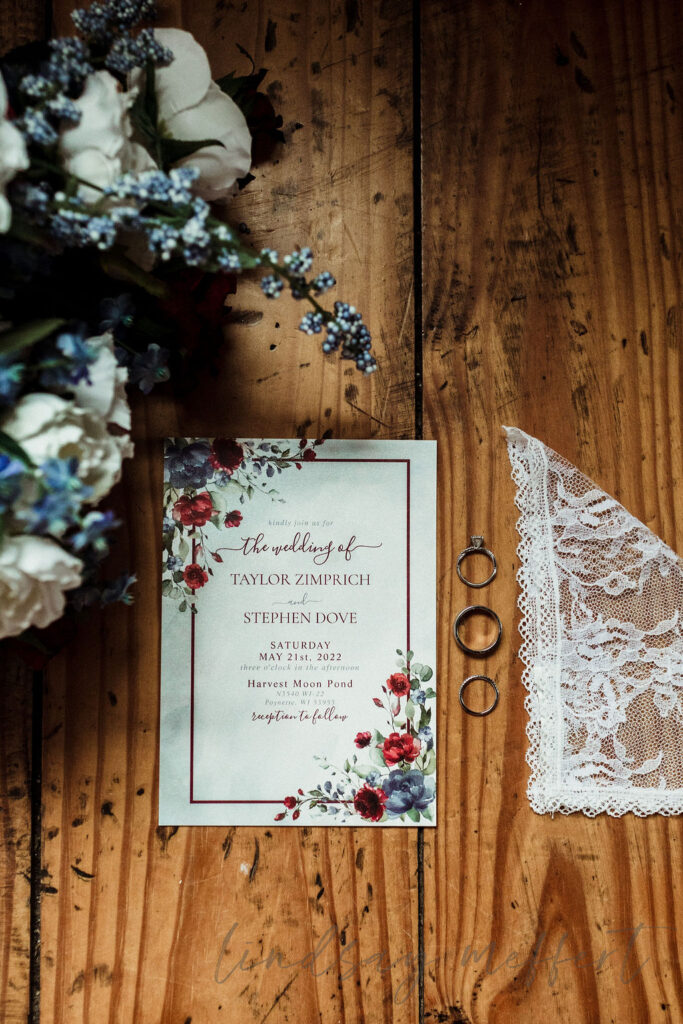 ABBY + ERIK -|- May 2022 -|- The Milwaukee Public Museum -|- Milwaukee, WI
Abby and Erik contacted me after their planned coordinator had to cancel. Their wedding at the MPM was truly unique. From a giant whale skeleton watching over their ceremony to dinner on the Streets of Old Milwaukee exhibit, it was a really interesting set up and great for guest to be able to wander through the exhibits and enjoy the museum. A couple of highlights: The cake was an amazing three tier, rich chocolate fudge cake, beautifully decorated and made by a teenager. The couple self-officiated their wedding to make it truly personal. The group took loads of photos in front of a t-rex goring a triceratops–very romantic. 🙂 Congratulations, Abby and Erik!
Photos by Amanda Evans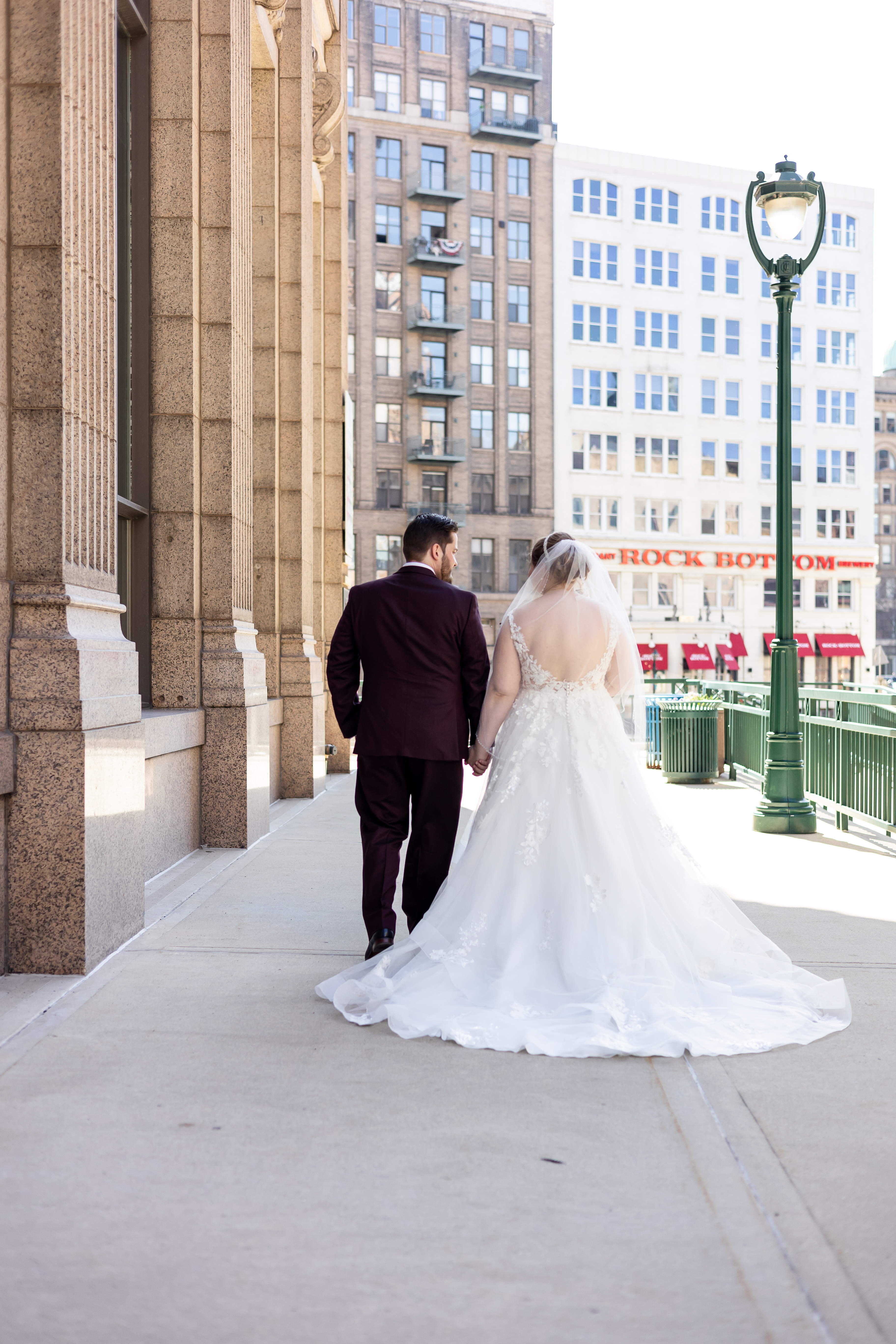 CLAIRE + PHIL -|- October 2021 -|- The Tinsmith -|- Madison, WI
Claire and Phil are an adventurous couple living in the Madison area. They had big plans to get married in 2020 at a brand new venue, still under construction at the time, called The Tinsmith. The world of course had other plans, but a pandemic wasn't going to stop them from declaring their love. They got married in the fall of 2020 with a very small group of family and close friends in northern Wisconsin, with the hope that the could host their dream celebration soon. Their day came in October 2021, almost one year later. They shared a beautiful day with all the family and friends they couldn't celebrate with in 2020 and had a vow renewal celebration, filled with all the smiling faces they'd been missing for a year. Congratulations, Claire and Phil. I'm so glad you could finally have your dream celebration.
Photos by Maureen Cassidy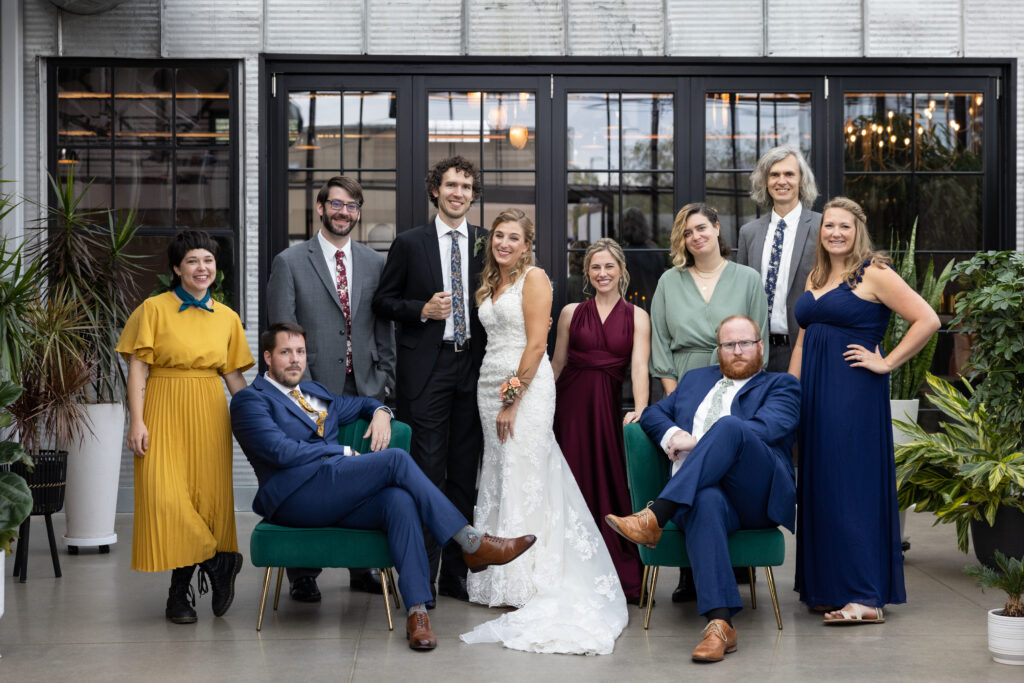 ARIANA + WALKER -|- September 2021 -|- Ski-Hi Fruit Farm -|- Baraboo, WI
It was such a pleasure working with Ariana, Walker and their families. There ceremony, although a little darker than some, had all the elements of a bright and happy union. Ariana's bold personality matched her wedding dress and floral perfectly and Walker's warmth was captured in the sunset between the rows of apple trees at Ski-Hi in Baraboo. It was a perfect fall day filled with bold colors, bright sunshine, and barrels of fun. Interesting fact: Ariana made the crown for her veil out of zip ties. Proof that you really only need duct tape, a little WD40 and some zip ties to conquer it all.
Photos by John Maniaci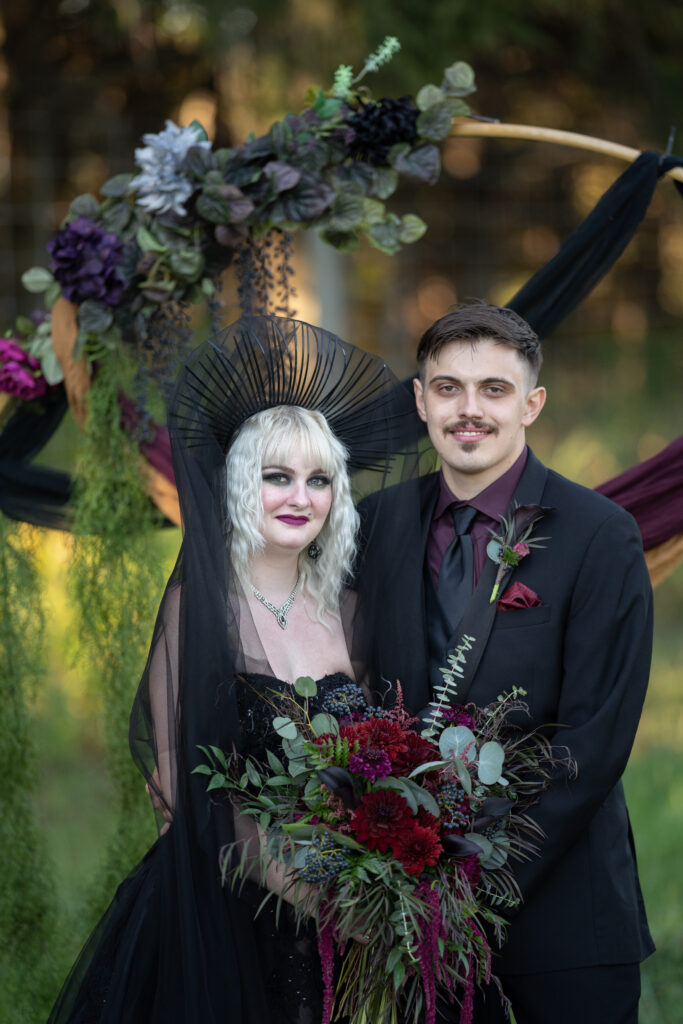 ALISON + GABE -|- August 2021 -|- YMCA of the Rockies -|- Estes Park, CO
Alison and Gabe's day was filled with an abundance of smiles and laughs. From the very beginning to the very end, this couple was grinning from ear to ear. With a passion for big adventures and a zeal for travel, this couple's destination venue was a perfect fit for them. Nestled in the Rocky Mountains of Colorado, the mighty mountains were only dwarfed by their even mightier spirits. This day was just plain fun. Plus, at the end of the evening, the father of the bride requested that the DJ play a polka and do you know what the DJ played? Zing, boom, TARARREL…..Proof that you can take the wedding out of Wisconsin, but you can't take the Wisconsin out of the wedding.
Photos by Caitlin Steuben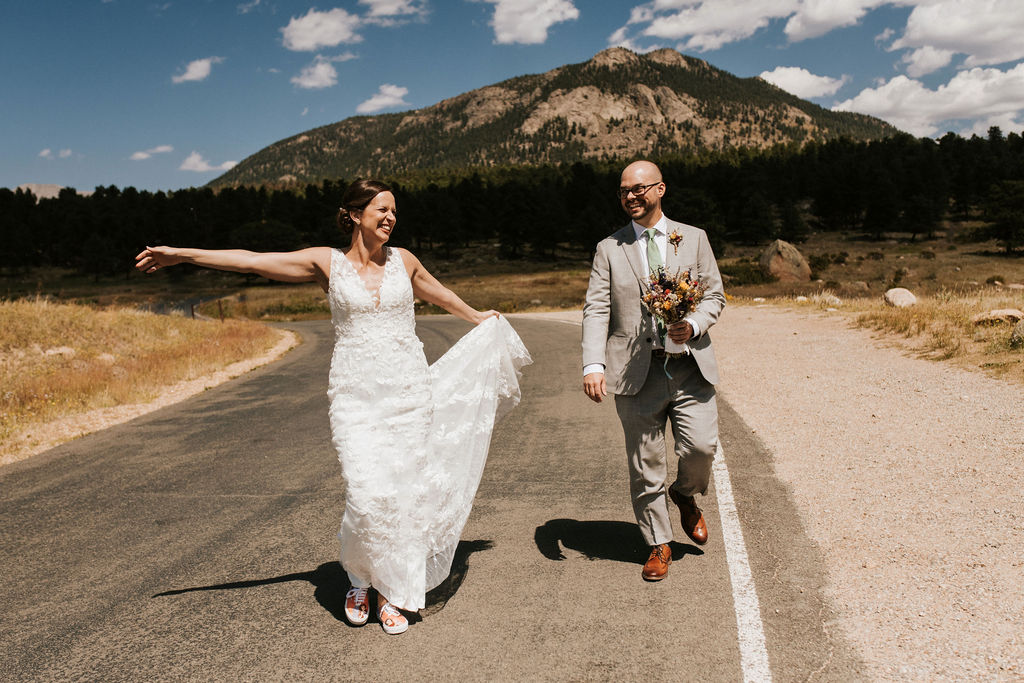 RACHEL + MATHEU -|- October 2020 -|- The Landing at The Lone Girl -|- Waunakee, WI
Rachel and Matheu celebrated with a small ceremony on the rainy rooftop at The Lone Girl Brewing Co. in Waunakee. I had met the couple about a year previously and we clicked instantly. They told me their story: how Rachel had a kid with a previous partner but it didn't work out. How Matheu found out she was single again. How they fell absolutely head over heels for each other. And let me be completely honest with you: I don't think I have ever seen any couple more perfect for each other than these two. Their love, patience, compromise and humility is the perfect blend that I think most couples aspire to attain. Few reach this lofty goal, but these two are lucky to have it right from the start.